Restricted items
As a preventive and safety measure for everyone, carry-on and checked baggage is controlled by airport staff.
There are certain restrictions that you should bear in mind when travelling, and these restrictions may vary depending on the destination of your trip. In order to avoid any delay or inconvenience, you should know prohibited or restricted items, and the limitations on the amount of liquid that can be carried.
Liquids, aerosols and gels (LAGs) permitted in your carry-on baggage
Some countries impose restrictions in respect of liquids, aerosols and gels carried in the passengers' cabin, and you may only carry a limited amount on board.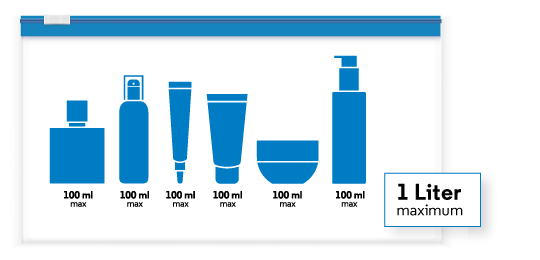 Containers with non-flammable liquids, aerosols and gels may contain up to 100 ml (3.4 oz) each.
They must all fit in one transparent one-liter re-sealable plastic bag so that the contents of the bag are visible.
Some examples of products containing liquids, aerosols and gels include toothpaste, creams, lotions, cosmetics, shaving foam, aerosol deodorants, among others.
Alcoholic beverages:
Alcoholic beverages can be carried as carry-on baggage (provided that local authorities so permit it) or as checked baggage, but each bottle cannot be over 70 % alcohol and the limit will be 5 liters per passenger.
Alcoholic beverages can be carried as carry-on baggage (provided that local authorities so permit it) or as checked baggage, in the case of alcoholic beverages that do not exceed 24 % alcohol (wine, beer, sparkling wine, etc.).
In the case of alcoholic beverages with more than 24 % but not more than 70 % alcohol, carriage is limited to 5 liters per passenger in the cabin.
Carriage of liquids, aerosols and gels in excess of 100 ml is only permitted in the following cases:
Baby food (provided that the baby is travelling), including breast milk/formula, juice and liquid or gel foods to be consumed during the flight, or other foods for special diets.
Medication, which must be duly labeled and accompanied by a prescription or physician's order certifying that it must be carried as carry-on baggage for use during the trip.
Tax free items: items purchased after the security checkpoint of the airport. You should bear in mind the restrictions on tax free liquids at your destination or connecting point.
RESTRICTIONS FOR FLIGHTS TO THE USA: as per TSA regulations, powder and granules exceeding 350 ml (the size of a drink can) cannot be carried as carry-on baggage.

Some examples of powder and granules include yerba mate, flour, sugar, ground coffee, spices, powder milk, cosmetics, powdered soap, etc.

Exceptions:

1-Powder medication duly identified and with a medical prescription given by a physician.
2-Baby formula.
3-Human remains duly certified as such.
4-Purchases (powder/granules) made at the Duty Free Shop and packed in a sealed bag, or otherwise delivered at the time of boarding by the shop staff. This restriction does not apply to checked baggage. However, hermetically sealed containers must be thoroughly inspected to check for breaks, tears, holes in the packaging, tampered seals or other signs of improper handling.
Prohibited items - carry-on baggage
They must be carried as checked baggage.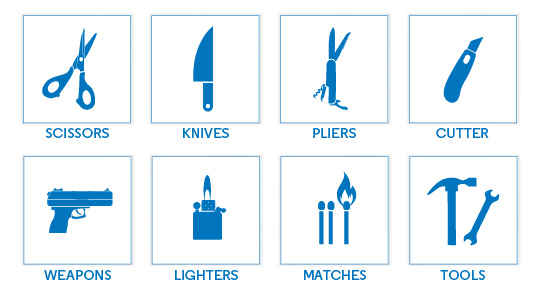 Restricted items - carry-on baggage
Restricted
Hand sanitizer gel (in a container not exceeding 100 ml, one per passenger)
Mercury barometer
E-cigarettes
Electronic devices that work with fuel cells
Safety matches
Lighters
Loose spare lithium ion batteries (up to 100 Wh)
Loose spare lithium metal batteries (up to 2 grams of lithium)
SMART BAGGAGE (suitcases-bags-backpacks) such as Modobag, Bluestar, etc. No smart baggage with non-removable batteries may be carried. Only smart baggage with removable lithium batteries may be carried. Lithium batteries must be removed and carried as carry-on baggage. Removed batteries must be secured to avoid short-circuits and damages.
Items in checked baggage
Items such as cameras, cell phones, computers, tablets, portable electronic medical devices, etc. carried as checked baggage must be turned off and protected against damages (we recommend you to place them inside a hard case). However, it is always advisable to place them in your carry-on baggage.
Restricted (must be carried as checked baggage)
Aerosol deodorants
Medical or clinical thermometers
Ammunition (bullets and cartridges)
Oxygen bags or tanks
Non-flammable non-toxic gas tanks
Camp stoves with no gas cartridges
Prohibited items
In order to ensure flight safety, you are not permitted to carry the following items considered hazardous on the airplane:
Completely Prohibited
Muriatic acid
Adhesives, glues
Self-defense sprays
Hydrogen peroxide higher than 30 volume
Airbags
Electroshock weapons
Cleaning items
Sparklers
Batteries / Accumulators
First-aid kits
Chlorine
Gas cylinders / cartridges
Insecticides / Rat poison / Pesticides
Hydraulic fluids
Turpentine / Solvents / Diluting agents
Benzene
Nail polish remover
Petroleum samples
Canned oxygen
Paint
Pyrotechnics
Lighter rechargers
Blood
Segway / Electrical self-balancing transporters
Samples for lab tests
Note: If you want to carry any other item beyond the scope of baggage, please consult with the Company.